How to Avoid Buyer's Remorse While Evaluating a Document Management Solution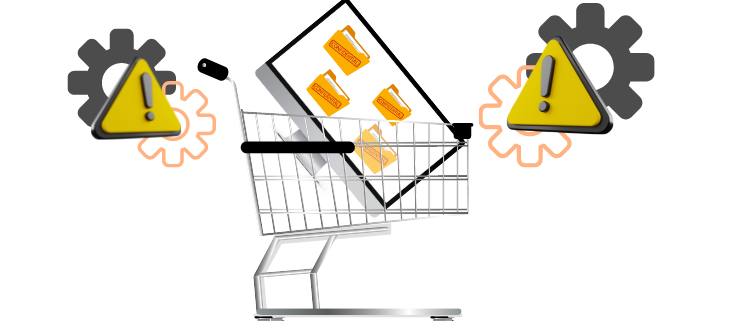 Globally, document management systems are proving to be successful for many organizations. Global Newswire projects that the document management system market will grow by 16.8% by 2029. This is consistent with the move towards digital by many businesses. Nevertheless, not all document management systems are right for every organization. We will discuss misconceptions about document management, the challenges that organizations face when searching for a solution, and how to avoid "buyer's remorse".
Misunderstanding Document Management
If you are unfamiliar with what a Document Management System is, let me explain. It's a system that can be used in large and small businesses in a wide range of industries to tag, capture, index, store, retrieve, create versions, search, and collaborate while remaining secure. This is a powerful tool that organizations use in various ways, which we will discuss in more detail later in this blog.
Nevertheless, we want to start by addressing six common misconceptions about document management systems:
I don't need one: Manually managing your documents only works for so long. Over time, as you accumulate more clients and business data, the manual process will begin to consume significant amounts of your time. The filing, organizing, tracking, and securing of those documents across your organization will become a challenge, which will create a disservice because things can be overlooked. A true document management system won't work without the support of your executive team and an understanding of what it can do for your current infrastructure.
My business will be disrupted: It's understandable that you are reluctant to do a company-wide system implementation. A legitimate concern is the disruption of your day-to-day business workflow. To ensure success, your organization will need an organized approach and it should be implemented gradually by departments or areas of the business.
It's only for big companies: Document management systems are often overlooked by smaller organizations. If you consider the impact a delay in productivity can have on a small business, it can be devastating, especially when resources are limited. Choosing the right document management solution can make all the difference.
Document management is data governance: To achieve data governance, there are several components that must be in place. When it comes to moving toward data governance, document management plays a crucial role. In short, it's a technological component toward establishing data governance at your organization.
It's risky to go completely digital: Paper leaves organizations open to so much more risk because you can't control who touched that document and where it is. The lack of security leaves your organization open to risk.
My shared network is sufficient:  The security features of a shared network are limited. It has been known to cause data breaches and violates GDPR and HIPAA regulations. There are many third-party file-sharing apps that do not provide the necessary local encryption to protect your documents. A shared network's search functionality makes it difficult to find documents. When operating in this environment, human error can arise, and duplication of files can cause a waste of time and resources. Additionally, it lacks the ability to tag documents, resulting in wasted time searching for documents by using repetitive keyword variations until you find the right one. Additionally, multi-user access to documents can cause problems, especially when multiple people are working on the same document. It leaves your organization open to the possibility of data loss.
A Successful Document Management Process
Using a document management system has helped organizations stay current with the times while saving time and money in completing tasks securely. These advantages include:
Saving Time: There's no denying it! Saving time is one of the most helpful things we can do. You will save hours of time by not having to worry about filing, organizing, and finding a place to store all your documents. As a result, you can spend more time with your clients and complete other tasks.
Saving Space: Since all files will be digitized and stored within your document management system, you will no longer have to find a physical location to keep them.
Updating with Ease: Business is a constantly changing environment, and information is no different. You can easily update your files using a document management system while keeping the original so you can go back to previous versions.
Retrieve Documents with Ease: You can quickly locate a document that you haven't seen for a long time with easy tagging capabilities.
Collaborate Effectively: You can work on documents anywhere without any lag time and collaborate with others effectively.
Security: Today, it is important to have a secure digital system to prevent those files from falling into the wrong hands. Credentials are protected by passwords & user controls to ensure the safety of documents.
Saving Money: Investing in a document management system allows your organization to save money. Your business will benefit from a reduction in storage costs and the number of hours it will take to find the information you need to succeed.
Integration Flexibility: Integrates with your existing systems with ease for a streamlined workflow process.
Preventing Buyer's Remorse
Implementing a document management system can be challenging for many organizations. To prevent buyer's remorse understanding the options that are available to meet your current and future goals is important. Keeping your system workflow processes effective requires considering your organization's overall goals. That's why understanding what these goals are and getting your executive team involved is key. Using a document management system will help you create a more streamlined workflow process.
Want to learn more about document management but aren't sure where to begin? The Ivionics team has been working with organizations of all sizes and industries to get on track with document management system success. Providing software selection, implementation, and consulting services. Count on us to have what you need. Get in touch with our team today.
You can learn more from our experts about Document Management here.
https://www.ivionics.com/wp-content/uploads/2023/02/Document-Management-Blog-Image1.png
411
730
catwoman
http://www.ivionics.com/wp-content/uploads/2022/08/IVIONICS-logo.png
catwoman
2023-02-02 23:43:32
2023-03-09 11:43:51
How to Avoid Buyer's Remorse While Evaluating a Document Management Solution